Murder on the Wine Train Express
The Napa Valley Wine Train is pleased to announce a Murder Mystery play centering on the clandestine world of the gumshoe. Come prepared to mix and mingle, dress the part, or just get down to business and solve the murder.
The year is 1915. San Francisco has been reborn from the ashes of the Great Earthquake and Fire of 1906. Under the vision of people such as D.W. Griffith, Mack Sennett and Charlie Chaplin, the silent film industry has taken off and revitalized entertainment. With the advent of a new railway, wine makers have discovered California's Sonoma and Napa Valley Wine Regions and are building an industry they believe will someday rival the wines of France.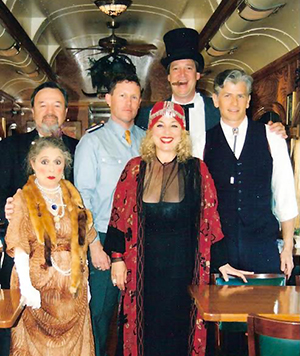 Cast of Characters
Dominic Giannini: Brother to the founder of the Bank of America and moving spirit behind the Wine Train, which publicizes the fledgling Napa Valley wine industry. President of the Board of Directors for the Southern Pacific Railway. Since his wife left him several years ago, Mr. Giannini's name has not been linked with any one lady, though he is rumored to enjoy the pleasures of the table. He owns the controlling shares in the Charles Krug Winery.
Grand Duchess Anastasia Petrovska Nybom: Born a Russian aristocrat, the Grand Duchess came to California as the wife of Captain Nybom. A retired sea captain, the Captain was the owner and promoter of the Inglenook winery, an active and generous spirit in the history of California agriculture. He died several years ago. They had one child, who is estranged from her mother. The Grand Duchess owns shares in the Charles Krug Winery.
Senator Thurston Desmond III: A jaded and corrupt U.S. Senator who has received campaign contributions from every special interest group who has the money to buy him. He is famous for his ability to stand on both sides of any issue you can mention. He is for and against Prohibition, a possible American entry into the Great War, and so on. He owns shares in the Charles Krug Winery.
Miss Valerie La Veaux: A moving picture actress whose most recent film is a mystery, "The Bottle Breaks." She is the Honorary Grand Marshal of the Panama Pacific Exposition, along with Richard Halliburton. She is glamorous, mysterious, and sophisticated.
Lt. Max Hohenberg: A lieutenant in the Royal Navy of Saxony, he is on leave to pursue his interest in the making of wine. For the past year he has been the head wine maker for the Charles Krug Winery and produces a special Mai Wein. He owns shares in the Charles Krug Winery.